Viimati uuendatud: 28 Veebruar 2019
Klikke: 1434
The winter is dying. Many people says that no, that this is only a little spring-like feeling, but the winter will be back in March. I don t know, during the month of February, i´ve seen a healthy winter losing all it´s greatness. Now in Tõrva there´s only snow in the sides of the roads, and in those places where the sun doesn't reach. Everything is wet, and it´s quite dangerous walking anywhere (i felt down a couple of times). Even when February it´s always a short month, there´s many things happening. And i don´t mean only this year, but in general, February is a month full of stuff. But this year was more special, because i´m in Estonia. I mean, in Murcia i used to have a February full of things, but here i had a February full of things + snow. So, if you wanna know what kind of amazing adventures i´ve lived this month, keep reading this article.
---
The month started with the Wintercamp; a two days camp (powered by the Estonian Defence League), in Ritsu sporthall. There was a lot of people. More than 100. Melina and me were working there, mainly doing a crafting workshop. We teached to some groups of kids how to make a notebook. It was very interesting for the youngsters to participate in that workshop, and i also learned how to make those notebooks. In the camp there was also competitions, games, food, tea, how to survive if you fall in a frozen lake, sleeping bags… I have to say it wasn´t easy for me to sleep there, because with such a lot of people in one room, there´s all the time some kind of noise. And the second day there was a competition about building with snow. Our team was the "older kids" team or something. We decided to build a sliding. The result was quite acceptable. But then we realized that, all the other groups, also made a slide. I think i enjoyed to play with the snow more than the kids.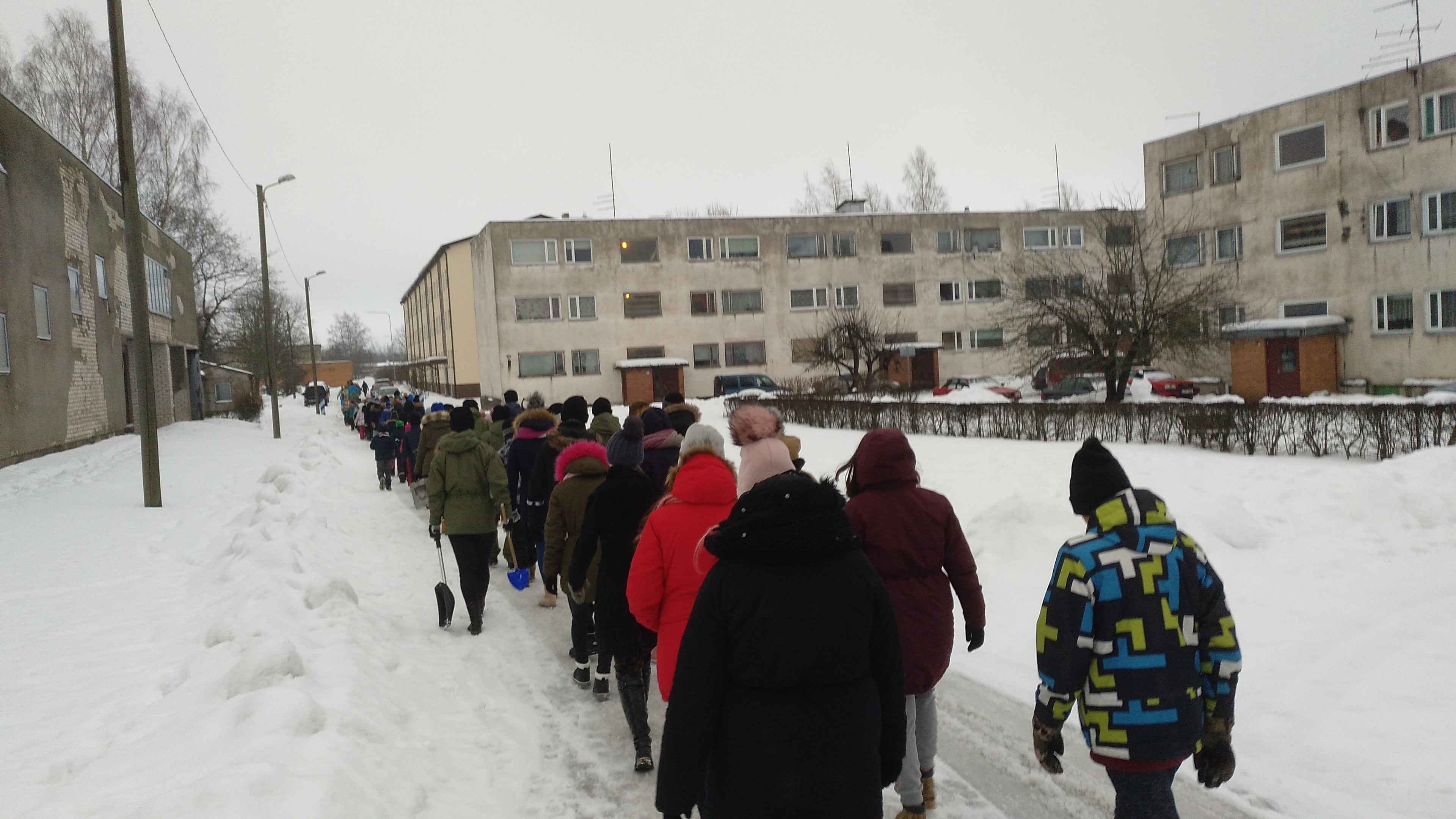 The moment when we were going to built the "snow city"
Some days after, i went to something i really was looking forward: The Midterm meeting. It was in a cozy wooden house in the middle of the forest (Leppoja guest house). I meet some volunteers i didn´t know, and i also has the opportunity to know better some volunteers i meet on the On-arrival training. I think i was very lucky, all the people there was amazing. The cakes were amazing too. We went to the finnish sauna, to the estonian sauna and to the estonian hole in the frozen lake. That was intense and fun. We also did a cross country skiing route which was also quite intense. We arrived in the night, very tired, but it was worthy the feeling when we were in the middle of a white giant field, in complete darkness, hearing the sound of some animals and the wind.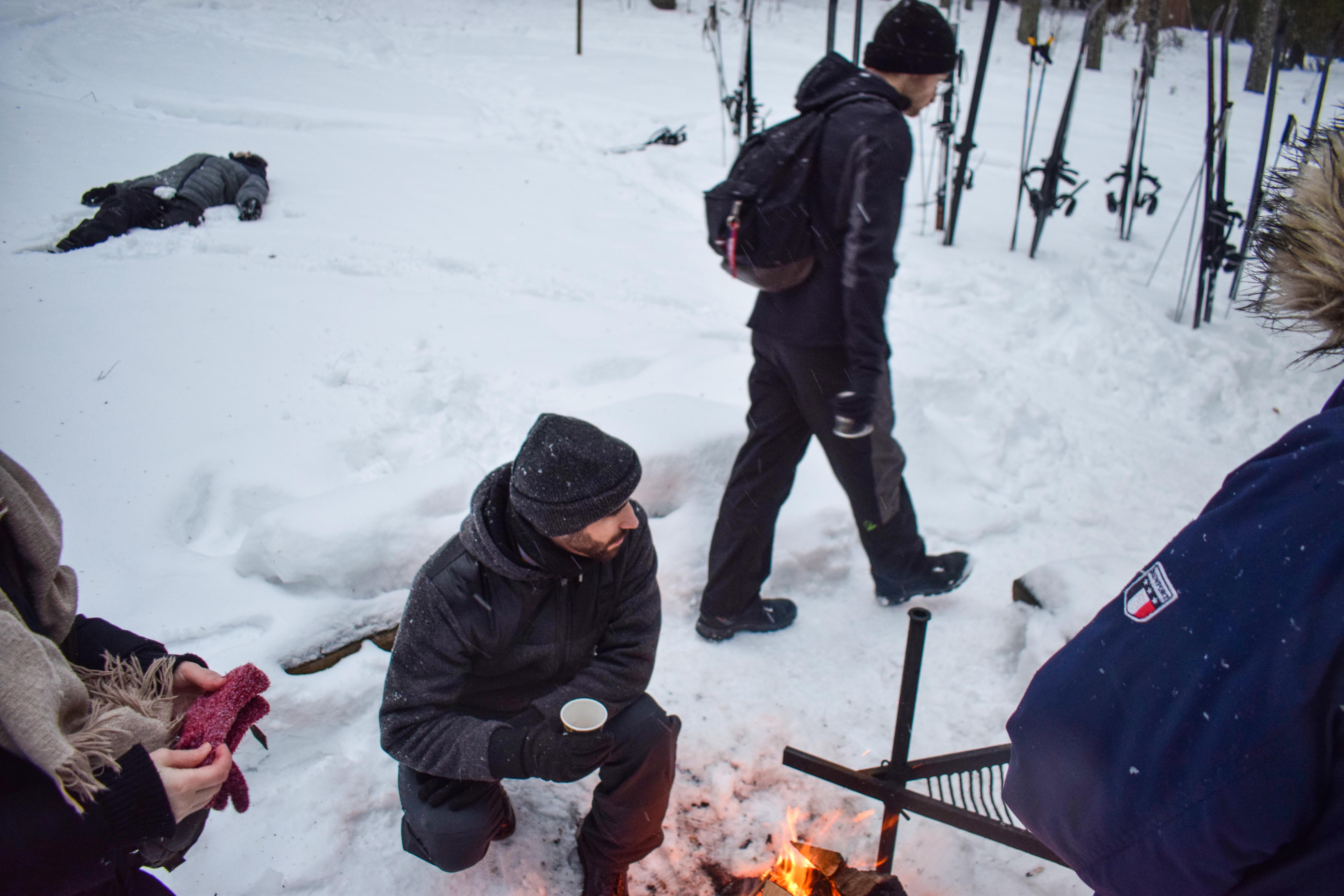 Never is a bad moment to relax
After that wonderful experience took end, i had to come back to Tõrva, but only for one day, because the next day i had to go to Hargla to be working and living there for four days. It was very interesting for me to see how the thing works in another youth centre, and in general, to be in such an small village as Hargla is interesting. One of the days -well, actually the Saint Valentine´s day- there was an event called Suur Klassiõhtu, were around fourty kids had fun in Mõniste playing games that Melina and me planed, and also eating and dancing. I also had the chance to finally go to the Wooden tower next to Hargla.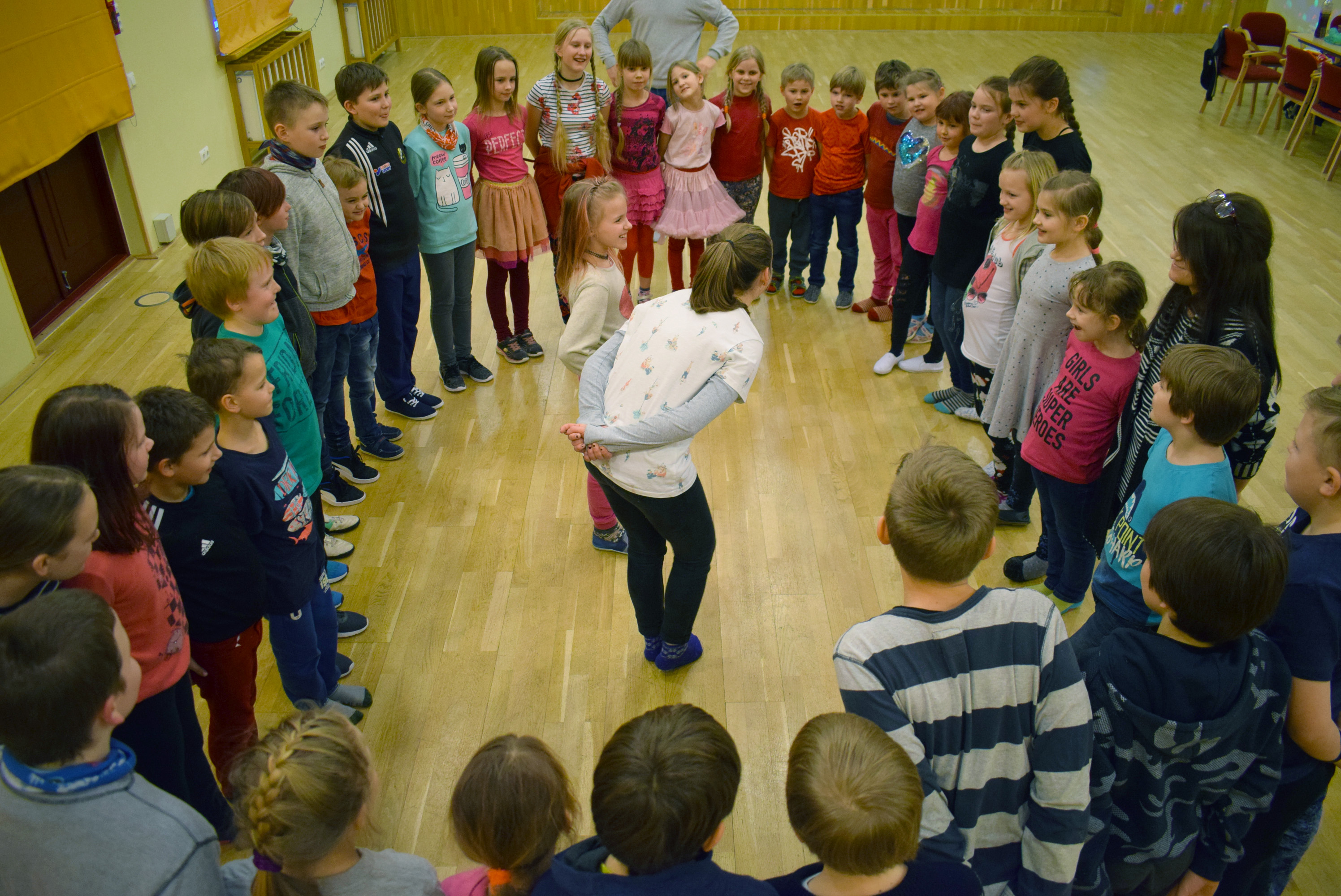 One of the games was this one
After that week living in another town, on Friday we decided to go to Võru to think, from there, and with Katharina, what to do that weekend. We wanted to visit some city we hadn´t visited yet, so we took a map… and we ended up choosing Haapsalu. Just on the other corner of the country. To go there, we had to take a bus early in the morning on Saturday. But the bus wasn´t a direct one like Võru - Haapsalu, but it was Võru - Tallinn and from there we had to take another from the line Tallinn - Haapsalu. So we decided to stay for the rest of the Saturday in Tallinn, and going to Haapsalu on Sunday. We stayed in a hostel that was suspiciously cheap. Soon we discovered why: There was a disco on the lower story, and it was quite noisy. Not my best night. Hopefully we woke up early to take the bus to Haapsalu. We didn´t have time to have a breakfast, so, when we arrived there, the first thing we did was going to Hesburger. Very nice breakfast they have there. Then, another volunteer joined us: Anne, from Germany. She is living in Haapsalu, so she showed us all the city. Thanks Anne!! We walked over the frozen sea, but not that much, because it didn´t seemed very safe, and the ice road was closed. We explored the beautiful and big Castle of Haapsalu, the bird-watching tower (Nice views, but too high to see birds), the Tchaikovsky monument, which is a bench that plays the "Waltz of the flowers", a frozen lake… Very nice city is Haapsalu.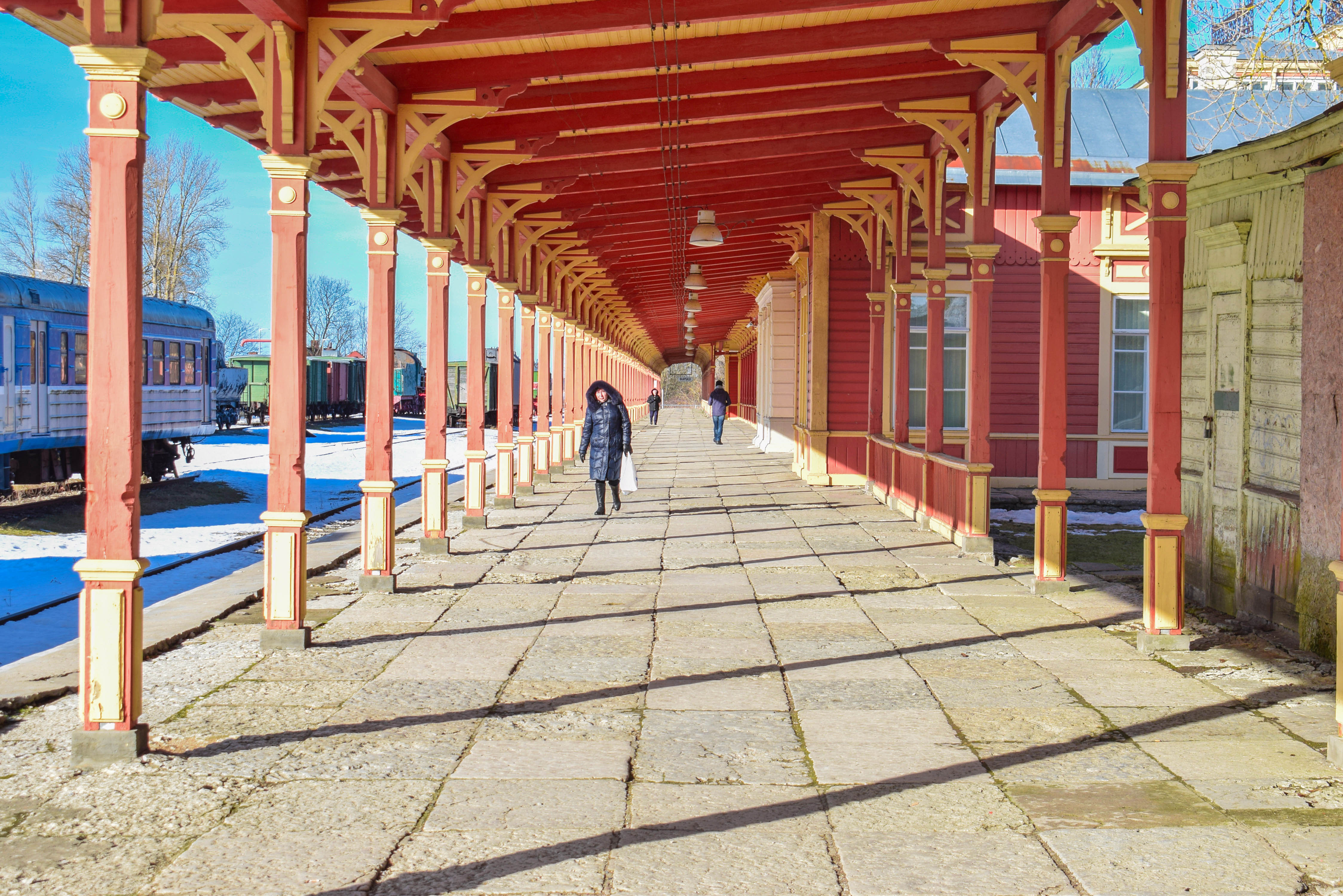 The train station was very beautiful, but it´s useless, because it´s not working anymore
With the new week, i started in Ritsu with the arts club, where every Tuesday we are doing some kind of crafting or arts thing. In Ala and Riidaja we are still doing the fotoclub, and now i´m going to Tõrva Avatud Noortekeskus on Thursday.
At the end of the week, on Friday, i went with my flatmates Artemis and Pavel to Pubi Juudas. There was a competition of a game call "Beerpong" that i didn´t know, but apparently it´s quite famous. Pavel asked me if i wanted to play that with him, because it was a competition by teams. I wasn´t very confident about my accuracy skills, but it could be fun, so i said yes. We played under the name of "Escobario" (because he is Pavel "Pavlo" and my surname is "Escobar"). We paid a symbolic fee. Escobario was on the game. There was fourteen teams and, i don´t know how we did it, but we were on the final. And we won. Well, actually i know how we did it. Pavel is very good at that game. When we won, i felt like if we were winning the world cup or something. Our prize was a Pubi Juudas T-shirt. And i went to sleep after a crazy night.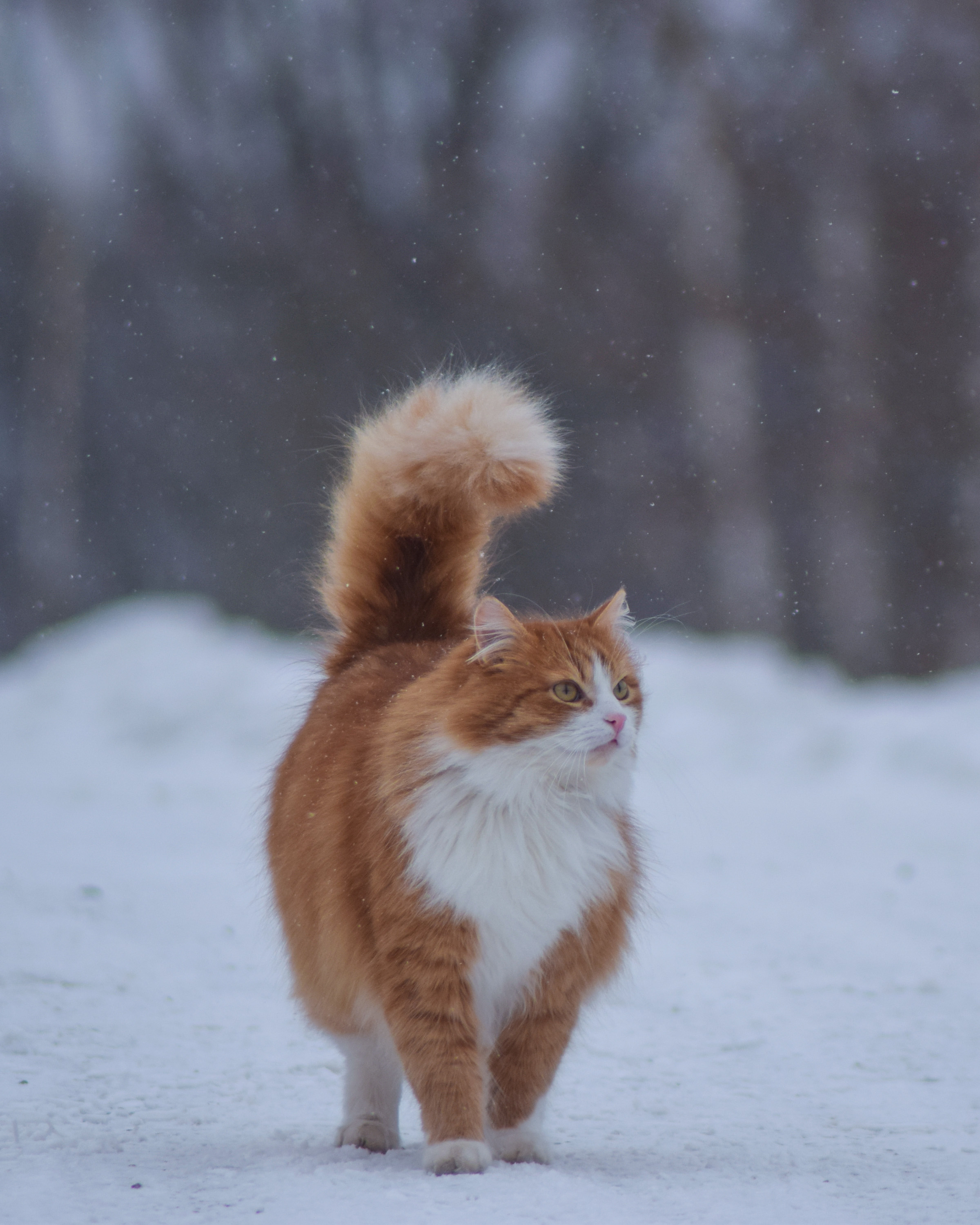 Watch out how cute was that cat i found on Tõrva
On the same weekend, on Saturday, my flatmates and me were to some kind of game all around Tõrva with the Estonian Defence League. It was that kind of games were you have to go to places in the town and do something or answer questions. Afterwards, we had free food. Next day, on Sunday, it was 24 of February. If you´re from Estonia, for sure you know that day is the Birthday of the country, so i wanted to go to Tartu to see the folk concerts there. I also meet there with Andrea, another volunteer from Italy, and another friend of him, also from Italy. In some moment, they confessed me that they also spoke spanish, so from that moment we were talking in Spanish. It was very nice with them, but i wanted to come back early to Tõrva because it was also the celebration of Pavel´s birthday. When i arrived to the flat, there was a lot of people, there wasn't even more space for sitting, so i had to go in search of chairs. I manage to find some, so i came back. We were talking and playing games, it was very fun, and i also had the opportunity to know more nice people. When the party was over, i went to bed, next morning i had to wake up at six.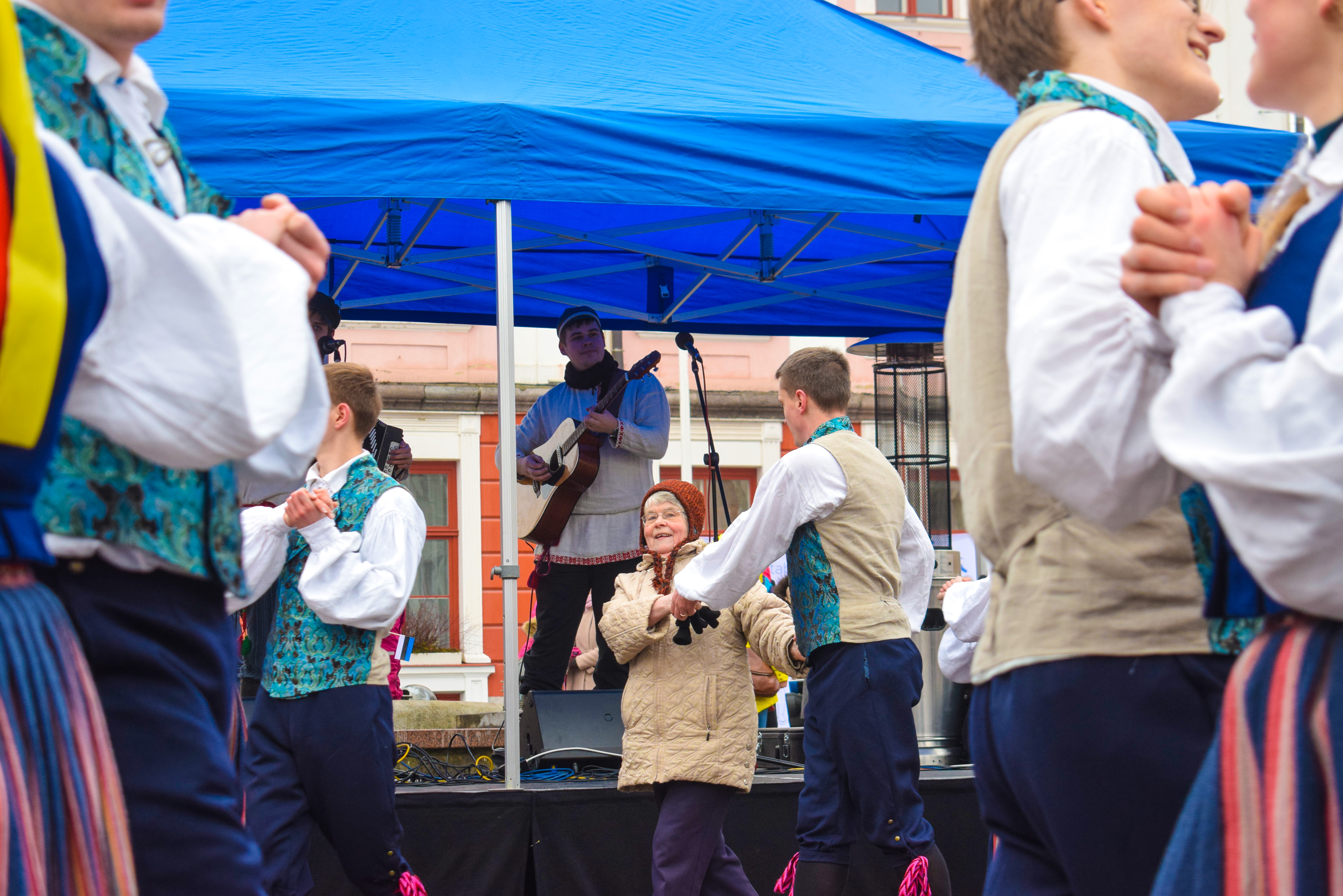 It amazes me how estonians really feel their folk music
It was six in the morning, and i was so tired. But i had to go to Hargla to be there working for another three days. At seven i was on the bus, trying to sleep. I could´t. At 8:25 i was already in the beautiful town of Hargla. I started recording resources for a documentary about the EVS (It´s my miniproject). That day, in the afternoon, Melina and me went to the forest to plan a route for the next day, because we had to do it with youngsters, and it was safer to know where were we going. The next day, it was the camp in Hargla school, where youngsters from the Estonian Defence League from all around Valga Couny, were having, first one day full of activities in the school and, the second day, a trip to the Energy museum in Tallinn, wich was quite interesting and fun, and we had also good -and free- food. The only not so good thing of that day was to wake up at 5:30 in the morning.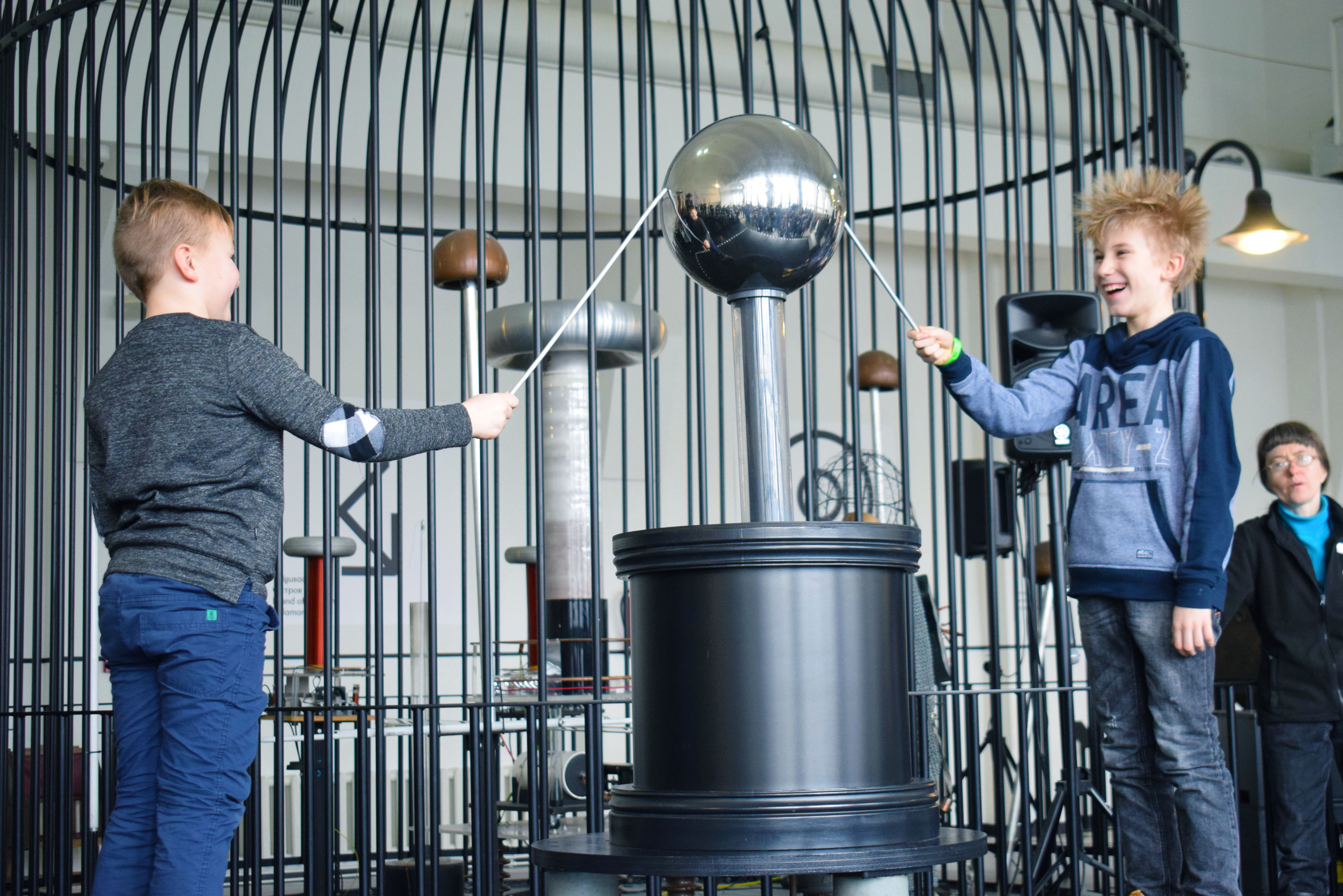 When electricity is funny
And that was my February
Pues eso, ya ha acabado un mes que empezó hace menos de un mes (Qué ironía), pero es que, después de 23 años, se me sigue haciendo raro que este mes tenga sólo 28 días. Aunque, a pesar de ser un mes corto, este ha sido uno lleno de eventos, momentos y emociones. Creo, realmente, que en enero era una persona y, en marzo, soy otra. El haber sobrevivido al invierno de Estonia me ha hecho creer que soy invencible. El otro día, en Hargla, tuve que montar una PlayStation 4 con todos los accesorios (gafas de VR, Volante, cámara...) El antiguo Gabriel habría dado la tarea por imposible, o habría recurrido a guasapear a algún amigo conocedor del tema, pero el nuevo Gabriel se puso a intentar averiguar la lógica de los cables HDMI y consiguió, no sólo montarlo todo, sino que hacer mejor de lo que estaba antes. Desde ese momento soy capaz de que, si puedo con la PlayStation 4 (y accesorios), puedo con todo.
Ahora mismo estoy tranquilo, escuchando el reloj de pared, siendo consciente de que tengo que guardar la ropa que tendí ayer. Ya se habrá secado.