Toimetas

ESC Volunteer

Kategooria: ESC blog 20/21
Avaldatud: 03 Veebruar 2021
Klikke: 335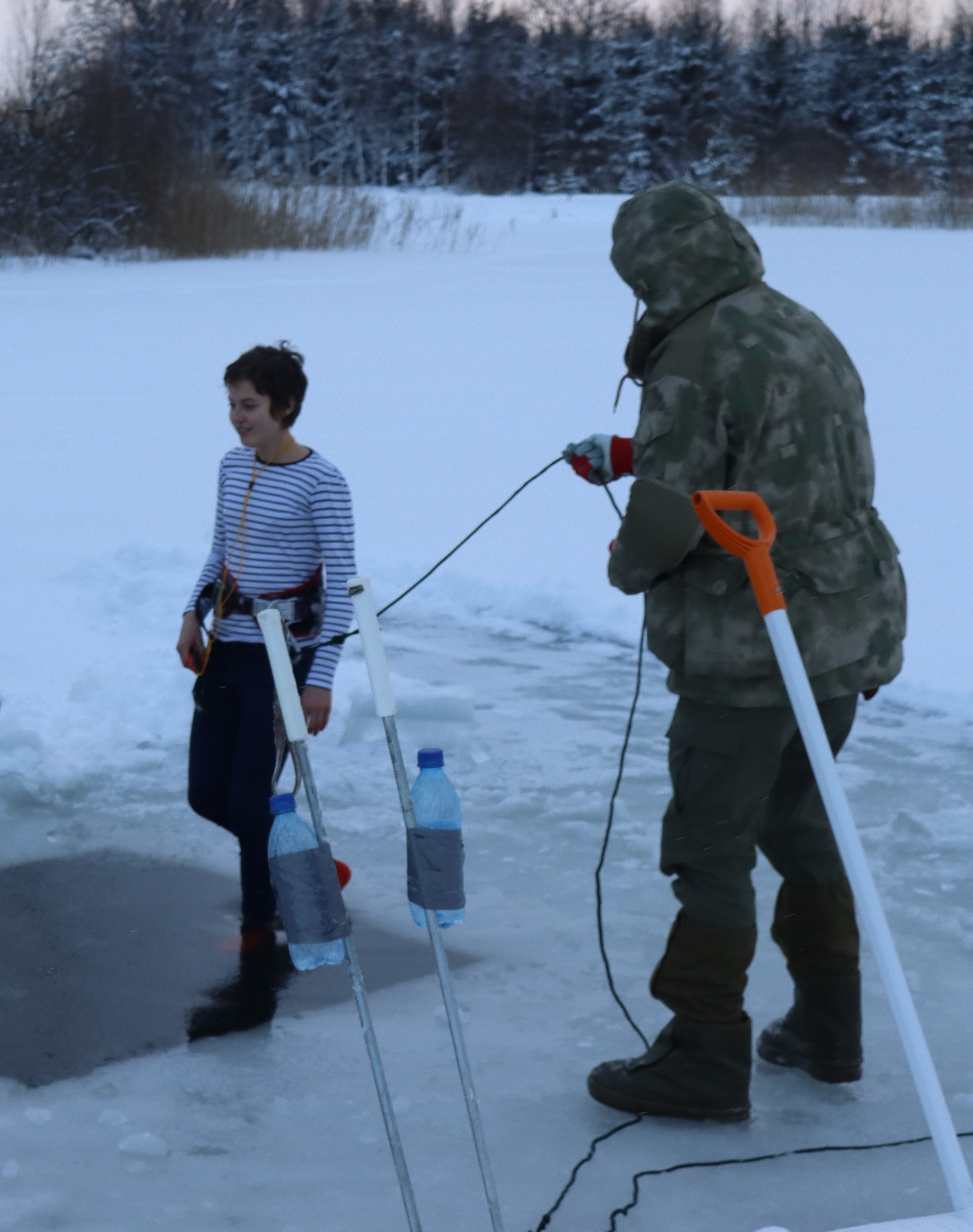 … that's what January brought to me. Even if some events like the Rockklubi got cancelled thanks to our friend "C. ", I did definitely not lack of entertainment this month. Since the new year started with a lot of snow and two-digit minus degrees, I took advantage of the cold weather and discovered a new hobby. Furthermore, I got the chance to visit a few new places in Estonia, I had my on-arrival training and breaking news: I am not "home alone" anymore! Why this occurrence changed my eating habits drastically and what made me shiver this month, you will find out in this post 😉
But work things first…
After a fantastic start of 2021 in Pärnu, it was time to work again, so I continued helping in Valga Youthcenter. In the mid of January, it was finally the time to re-open Tsirguliina Youthcenter, which made me really happy, since I haven't seen the youngsters for a long time. I have to admit that the first days were really calm, but after the arrival of our new PS4 the rooms where suddenly filled with curious kids and teenagers, eager to try out "Just Dance 2021" 😏.
However, I don't feel like I spent much time in our Youthcenter this month, mainly because I was nearly a week at home. No, I was neither sick nor lazy, on contrary: I had to get up earlier than normally and I was also quite productive in terms of language learning. You might ask what I am talking about, well, to keep it short: I had my on-arrival training. After 3 months in Estonia, this might not have been as useful and interesting as designated, nevertheless I got at least to know many other volunteers, even though we only saw each other via Zoom 😢.
Since this experience was not as satisfying as I've expected, I thankfully had the chance to meet a few of my new acquaintances on the proximate weekend. One of the volunteers lives in Viljandi and so we decided to visit her and get a glance of "Strawberry City". It was a great trip; we did not only go to the obligatory places like the ruins and "rohelise maja" (another great Kohvik) but also found out more about the mysterious strawberry sculptures in the "Kondas"-art centre. Last but not least we even spotted the most hated sculpture of Estonia. We were really lucky, because it will be removed soon! But to be honest, is this poor singing guy, being walled in a modern pillory, really that awful for you?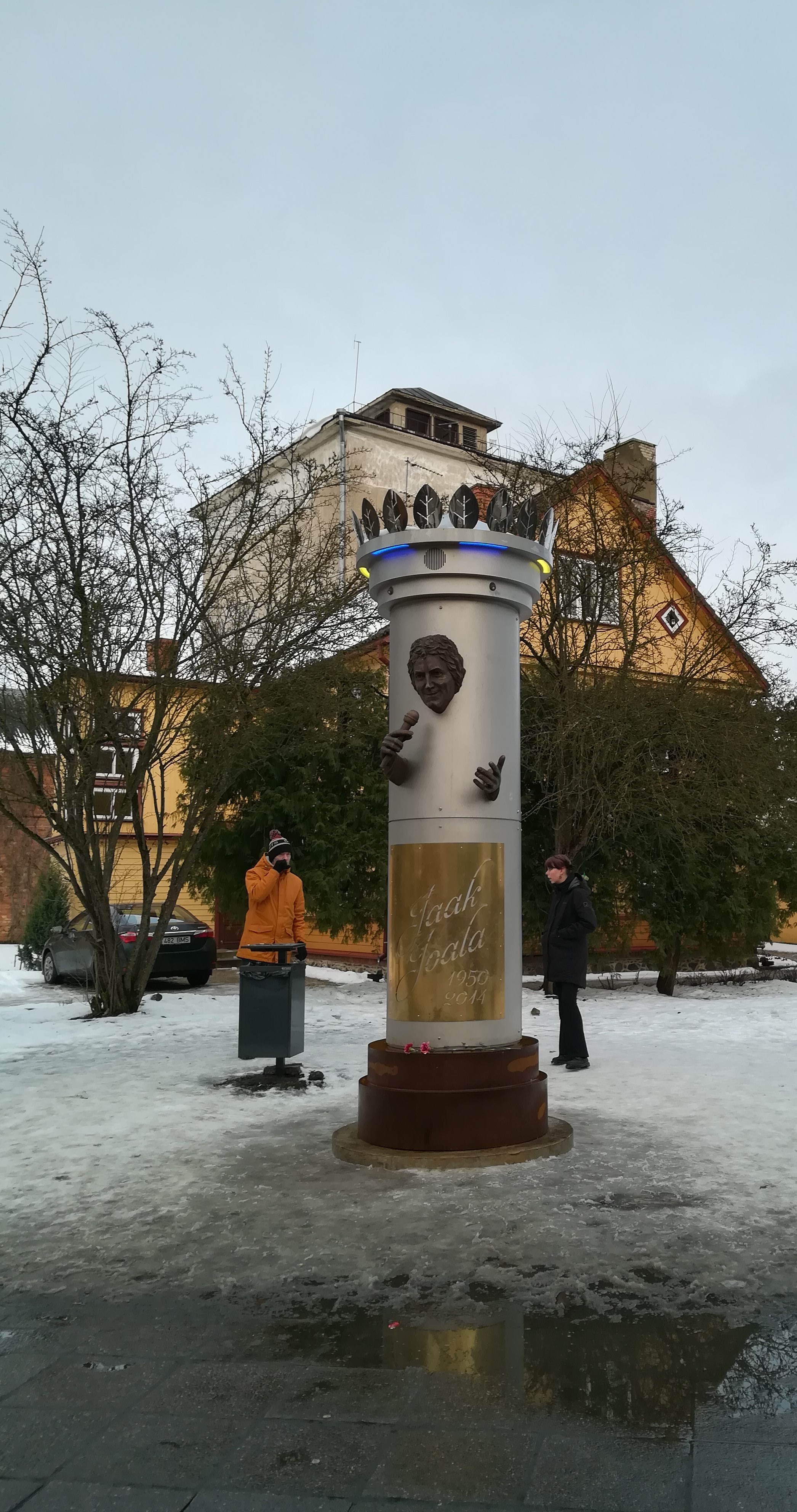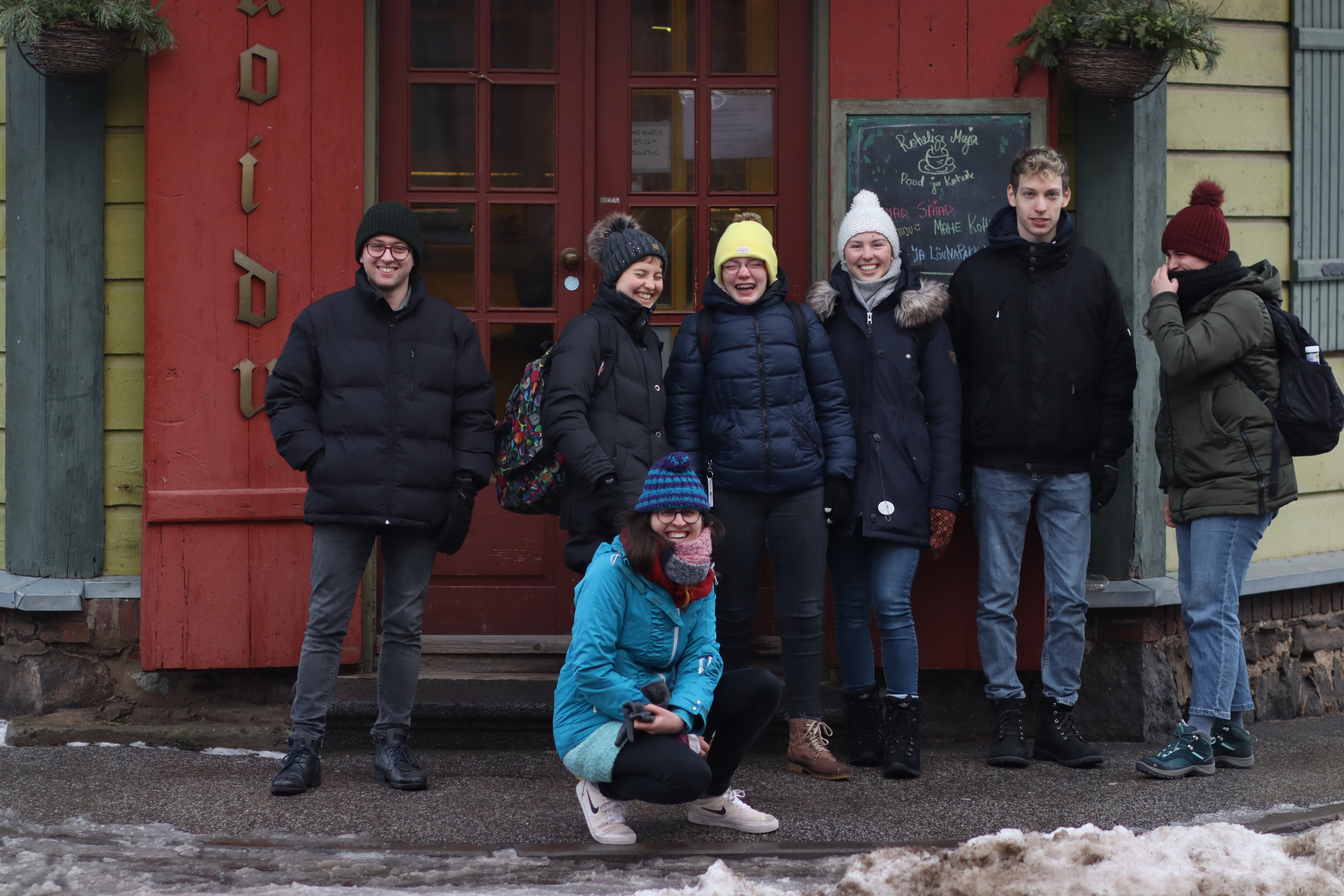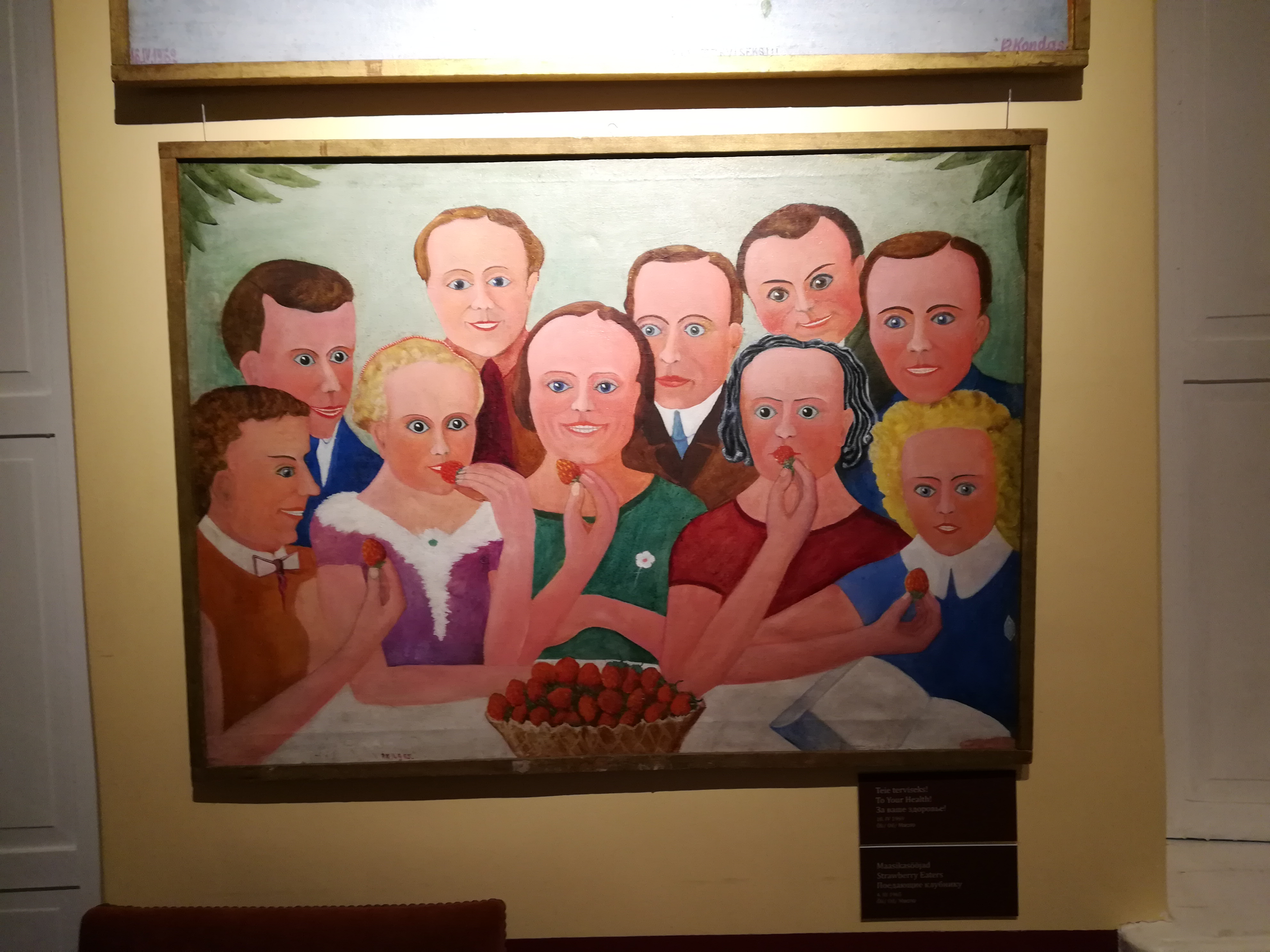 Besides from taking a city trip, I also persuaded my friends to try out cross-country skiing with me. As we were all trying it for the first time, the ski trail near the pedeli was perfect to get used to the long skies. I kinda feel like the others didn't enjoy it as much as I did, nevertheless we had a good time and I decided to practise alone a few days later. To my great joy, Dea and Elina also invited me to go skiing with them in Lüllemäe, which was more of a trial-and-error trip (we spent much time laying in the snow), but still awesome though. I would love to go on more skiing trips but sadly nobody in my surroundings seems to be motivated anymore 😔. So if you are an Estonian with a passion for skiing and the will to teach me how to do it right, feel free to contact me!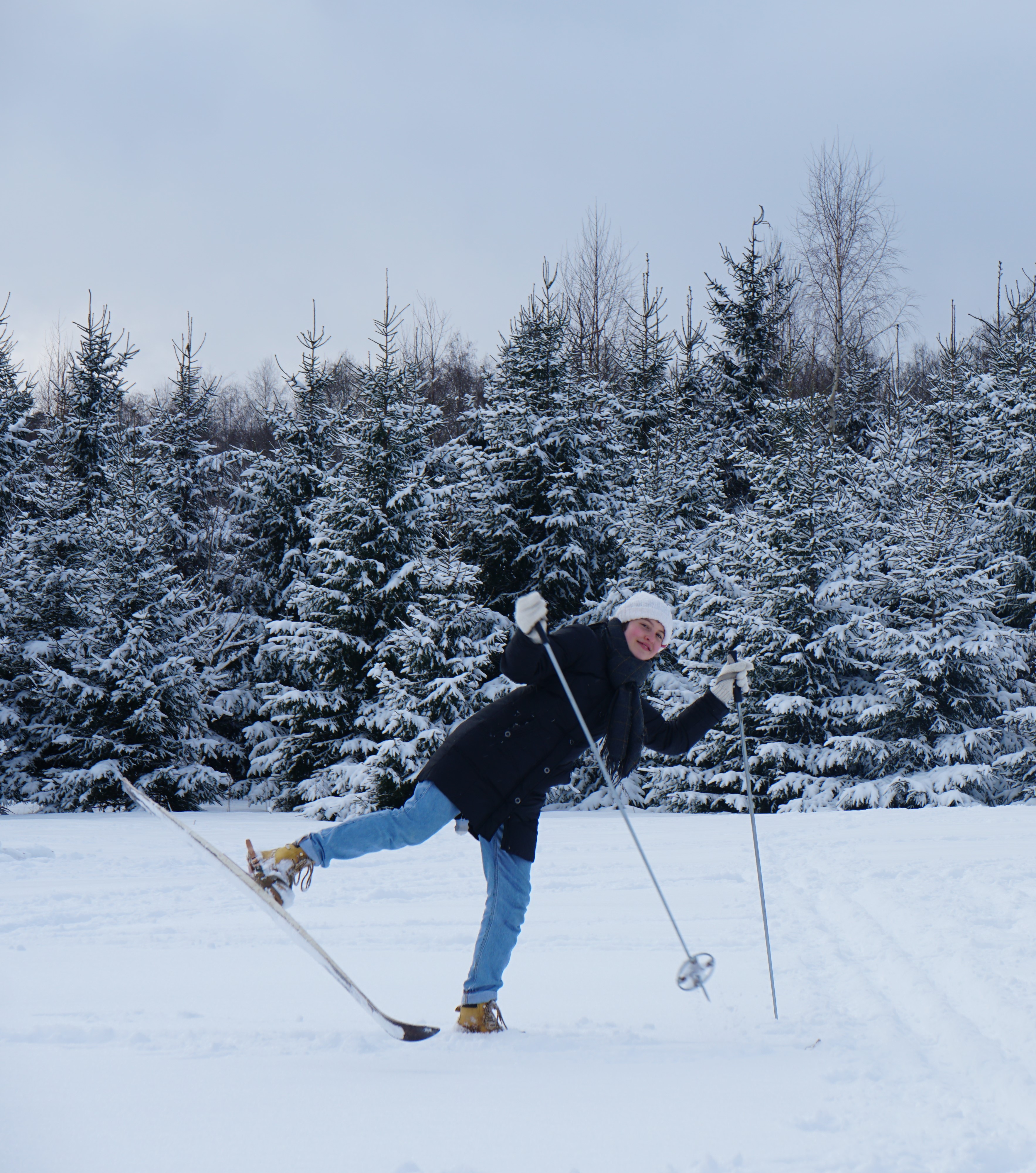 You see, in terms of being connected with Estonians I am a bit lagged behind (something I want to change in the new year), but at least I got to know more international people, yeyy. One of them now plays a bigger role in my life, since he is my new flatmate. Yes, you've seen it rightly, I am finally not alone anymore! (Even though I was quite comfortable with my situation lol). To be honest, my first meeting with Matviy was a bit scary, since he showed me his knives and risked his life to clean some windows 🤦‍♀️. However, now we are getting along quite well (at least from my perspective haha) and thanks to his cooking skills I got to taste a lot of Ukrainian dishes 😄. But there is one thing I ask myself (and all the Ukrainians out there): Is it normal for you to buy 35 kg bags of potatoes per month? Well, at least for me this was a bit strange experience, especially after the spuds froze on our balcony and defrosted in a lake of dirt under our kitchen table lol. Spoiler alert: We had to eat many potatoes in a short period of time after this little accident.
Can we maybe buy less of them next month, Matviy? 😂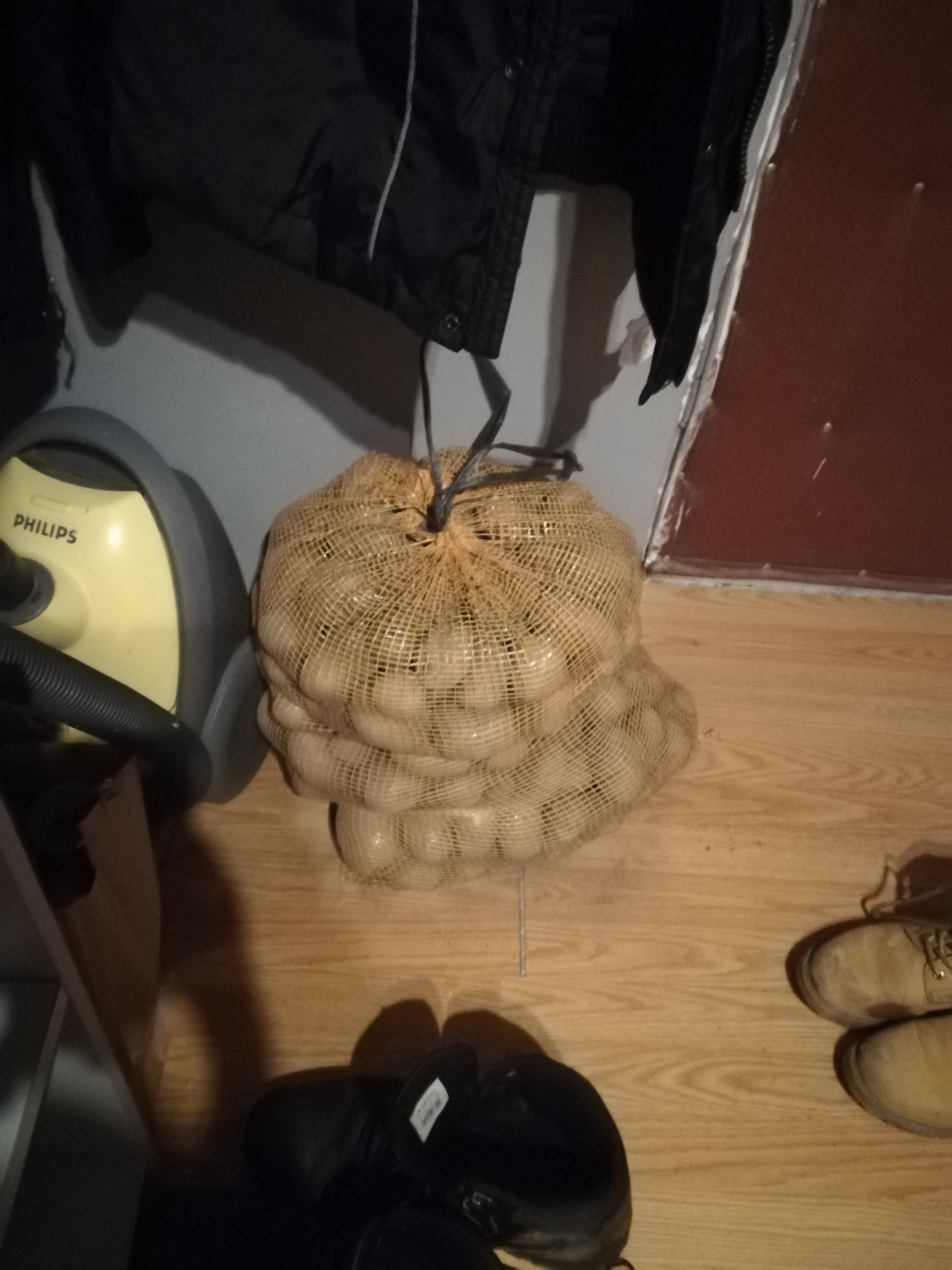 All in all, January was packed with surprises and adventures, but the craziest thing I haven't even told you yet. Last weekend all the TANKLA volunteers participated in a survival workshop of the Defence League. We did not only learn how to build up a winter tent and to make whistles out of cola cans, but we also had the chance to save ourselves out of a frozen pond.
Which means that we were permitted to jump into ice water.
Well, I was really unsure about that because I feared getting cramps or being too weak to get out, but at the end I took all of my courage, and as you can see, I survived! 🤣
That was definitely one of the coolest experiences this month!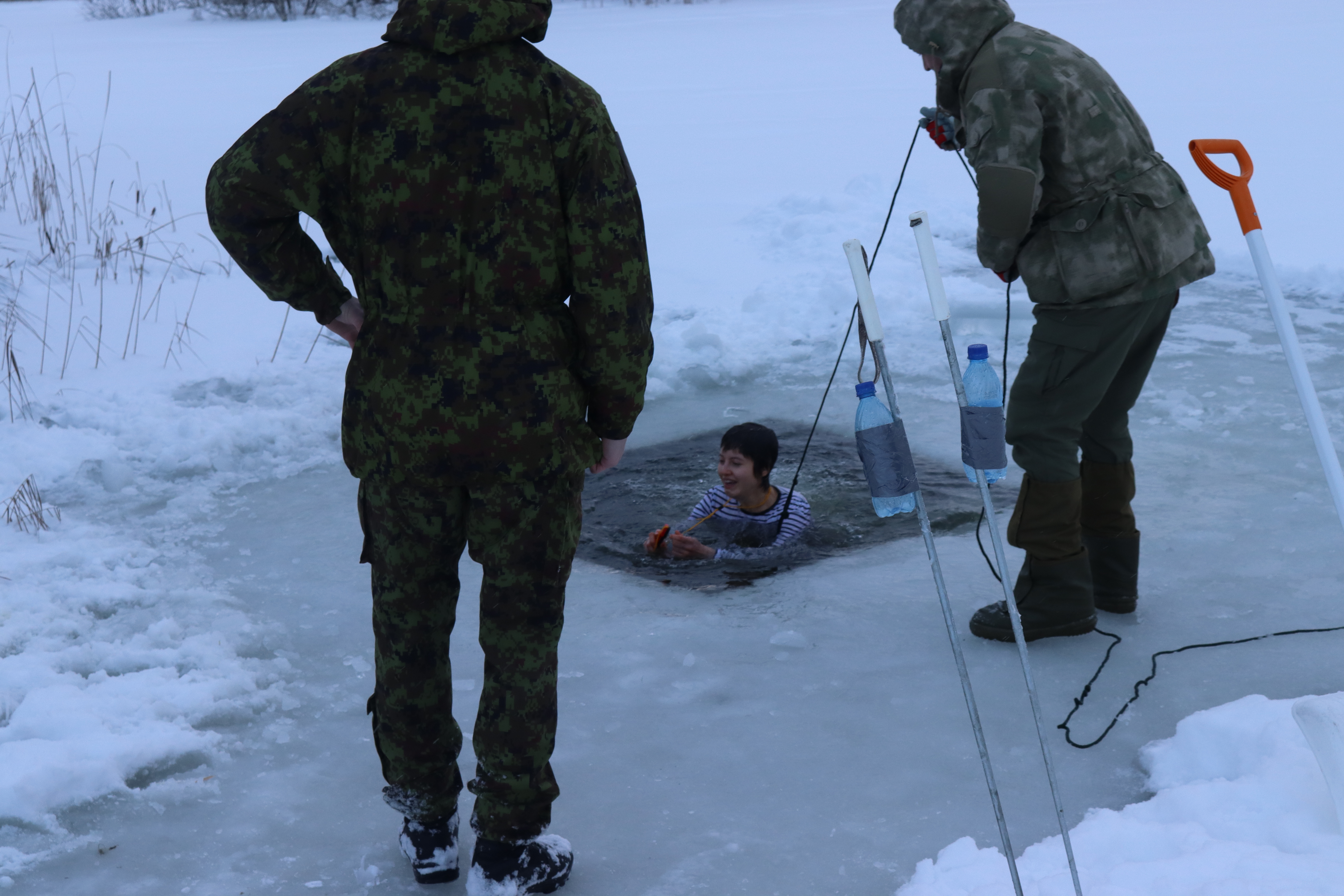 ---
Im Jänner konnte ich endlich wieder nach Tsirguliina zurückkehren, viel Zeit hab ich dort aber nicht verbracht, da endlich! (nach 3 Monaten) auch mal das On-Arrival-Training (leider online) stattgefunden hat. Ich fands jetzt nicht so spannend, dafür konnte ich aber zumindest paar neue Leute kennenlernen, mit denen ich mich auch in Viljandi getroffen habe. Außerdem war ich diesen Monat zum ersten Mal Langlaufen, hab mich auf den Skiern gleich wohlgefühlt (Austria Skiing Nation oderso 😂) Das beste Erlebnis des Jänners war aber definitiv das "Eisbaden", zwar sau kalt, aber nachher konnte ich mich zumindest kurz in der Sauna aufwärmen 😂 😂
Wenn ihr detaillierteres Zeug über meinen Aufenthalt lesen wollt, könnt ihr gerne dem Link zu meinem Blog folgen 😉